According to Mr. Hermiz Shahen, the Regional Secretary of the Assyrian Universal Alliance in Australia and New Zealand, the date of the unveiling will be on the seventh of August 2010 at 11:00 am at Bonnyrigg Park where the statue is erected. This memorial stands for the Assyrian genocide committed at the hands of the Ottomans Turkey during WWI, which claimed about 750,000 innocent lives and the Simile massacre at the hands of Iraqi army on 7th August 1933, which claimed the lives of about 6000 innocent Assyrians. Each year, on August 7, the Assyrian communities worldwide commemorate Assyrian Martyr's Day with respect and dignity, Mr. Shahen said.
Mr. Shahen continued that the worldwide Assyrian community has contributed to the cost of the entire project, which exceeded 70000 dollars. The site is expected to become a pilgrimage site not only for the Assyrians but for all Australians who are sympathetic to this issue.
Australians contributed generously to help the displaced families during WWI, donating supplies and financial assistance through their charitable organizations to help the victims of this Assyrian, Greek and Armenian genocide. A great number of Australian soldiers engaged in the war helped bravely, saving the innocent victims of this genocide from the hands of the enemy and were thus first-hand eye-witnesses to the tragedies suffered by the indigenous Assyrians, Armenians and Greeks of Anatolia.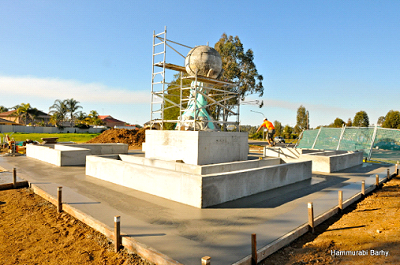 Mr. Shahen said that he expects a large number of representatives from Federal, State and Local government to attend the unveiling. It is also expected that a large number of media news agencies and writers from within and outside Australia to attend this event.
When asked if the entire construction work for the statue is actually completed, Mr. Shahen answered that the construction work has already completed in accordance with the time schedule, he added that the Assyrian artist, Lewis Batros, is working on the finishing touches of the statue. Whether or not the final look of the memorial will remain like that of the artist's imagination at the beginning Mr. Shahen replied, the statue will be the same, but there are changes that have been previously agreed upon with Fairfield City Council, which I am certain will impress the observers.
"I am expecting over one thousand spectators on the unveiling day, including the presence and contributions from the Australian Assyrian, Armenian and Greek organizations. Many delegations will attend from the city of Melbourne and other Australian cities, as well as New Zealand" Mr. Shahen said.
On the unveiling day, the Assyrian Universal Alliance in collaboration with the Australian Institute for Holocaust and Genocide Studies has organized a seminar about the Assyrian, Armenian and Pontic Greek's genocide, to be presented by scholars from the Australian Institute for Holocaust and Genocide Studies, and overseas. A documentary film will be screened outlining the genocide perpetrated by the Ottoman Turks against the people of the aforementioned three nations.
Assyrian Universal Alliance
AINA, Assyrian International News Agency